We investigate all potential defendants for negligence surrounding the wreck. The wide range of potential issues includes:
Distracted or inattentive driving
Truck driver fatigue, including problems caused by too many hours on the road
Driver impairment
Improper truck maintenance
Improper hiring, training, or supervision
Unsafe loads
Violations of Federal Motor Carrier Safety Administration standards
Motorists in ordinary cars, riders on a motorcycle, pedestrians, or anyone who is hit by a truck is no match for the power and mass of a big rig. The injuries in a semi-truck accident are frequently catastrophic and may be fatal. Medical bills pile up quickly. The need for long-term treatment, rehabilitation, and modifications to housing are likely after a serious 18-wheeler accident. If you or a loved one has suffered an injury in a truck accident, it is critical for you to work with a legal team with the resources, knowledge, and experience to get the full and fair compensation you need to get your life back on track.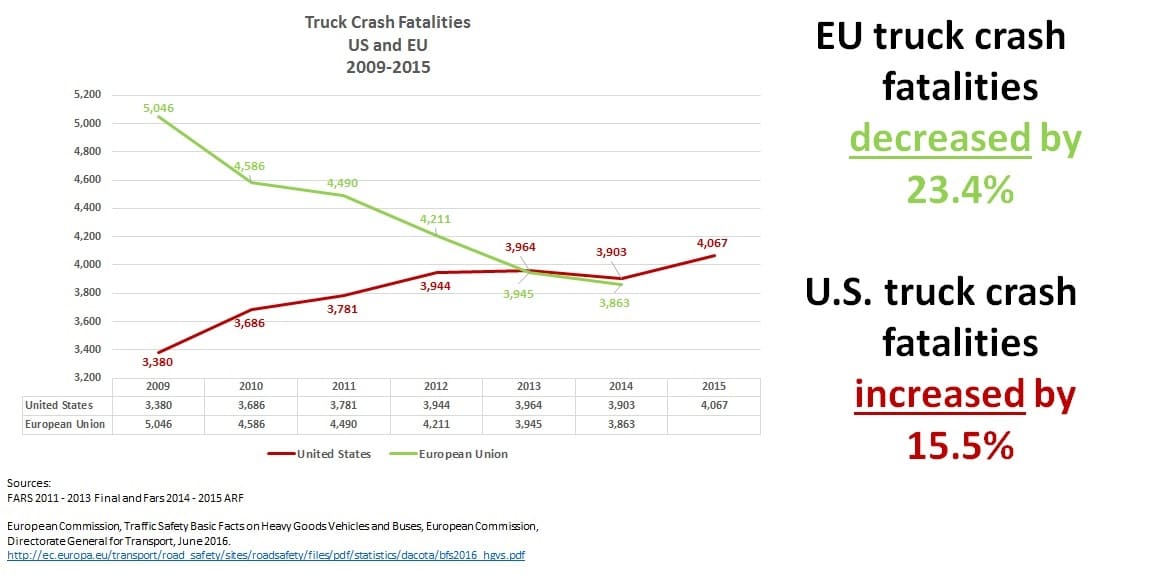 MOST COMMON LOS ANGELES TRUCK ACCIDENT INJURIES
The attorneys at the Law Offices of Howard Craig Kornberg have extensive experience helping clients who have sustained a range of injuries due to a truck accident. It is not uncommon for us to help victims who have sustained the following:
Paralysis
Other severe back or neck injuries
Whiplash
Concussions
Open head wounds
Internal organ damage
Internal bleeding
Lacerations or puncture wounds
Amputations or crush injuries
Significant scarring and disfigurement
Severe Emotional Distress
Injuries to immediate family members who witness the accident
Our Los Angeles truck accident attorney also recognizes that truck accident injury victims regularly suffer from significant emotional and psychological trauma as a result of the accident, their injuries, and their recovery. We strive to recover compensation for all of our client's injuries, both physical and non-physical.
WHAT TYPE OF COMPENSATION IS AVAILABLE FOR A LOS ANGELES TRUCK ACCIDENT CLAIM?
There may be various types of compensation available to victims of these accidents. The Los Angeles truck accident lawyer at the Law Offices of Howard Craig Kornberg are regularly able to help clients recover the following:
Full compensation for their medical bills
Lost past and future income if they cannot work
Any household out-of-pocket expenses
Property damage expenses
Pain and suffering damages
Loss of quality of life damages
Possible punitive damages against a malicious or despicable truck driver or trucking company
The total amount of compensation available in the aftermath of a truck accident will vary depending on the facts and circumstances surrounding each particular case. Some of the factors that significantly affect the total compensation include the severity of the injuries, the fault of every party involved, and the insurance coverage limits of the parties involved.
DEADLINE TO FILE A LOS ANGELES TRUCK ACCIDENT CLAIM
It is crucial for Los Angeles truck accident victims to understand that they have a limited amount of time to file a lawsuit in these cases. The California personal injury statute of limitations is two years from the date an accident occurs. This means that a truck accident victim has a two-year window with which to file a lawsuit against the alleged negligent driver or company. If the accident was caused by a truck driver working for a government entity that a government written claim must be filed within 6 months or the case will be lost.
If a victim fails to file a lawsuit or government claim within this time frame, they will lose any ability to recover the compensation they deserve.
However, we need to point out that this does not apply to any deadlines put in place by the insurance carriers involved in the accident. Insurance carriers typically require that claims be filed within a short amount of time after the accident occurs, or the claim could be delayed or denied altogether.